Being a caregiver isn't easy! There are a ton of moving parts -- from emotional exhaustion to physical pain, from a lack of privacy to financial strain, it's no wonder that so many caregivers wind up depressed and overwhelmed.

PATH Membership was created to support family caregivers everywhere. It's a place where you can get help from others who are going through similar struggles as you. You can post the difficult questions you may not feel comfortable sharing on your public channels, and get practical help, guaranteed.

Here, you can get the help, support, and clarity you need to make the most of your caregiving journey.

With the transformative coaching in the PATH program, you'll know how to align your mind, body, heart, and spirit so you can embrace the challenges that naturally arise as a family caregiver.
The PATH Program is the best place
I really appreciate Robin's laid-back style and the number of resource materials that she provides. Not only are you getting the one-on-one experience with her, but she is always checking in, and constantly sending me up-to-date resources. She is just a valuable resource.
Robin, I am so thankful for your work in caring for caregivers! Your compassion, wisdom and experience helped me through a very rough time with my parents, when I felt I had nowhere to turn. You had perspective, information and advice that helped me tremendously and relieved a lot of the stress associated with caring for my aging parents!
Robin provides creative and relevant solutions that serve as significant catalysts for transformational change. She is credible, patient, and humble.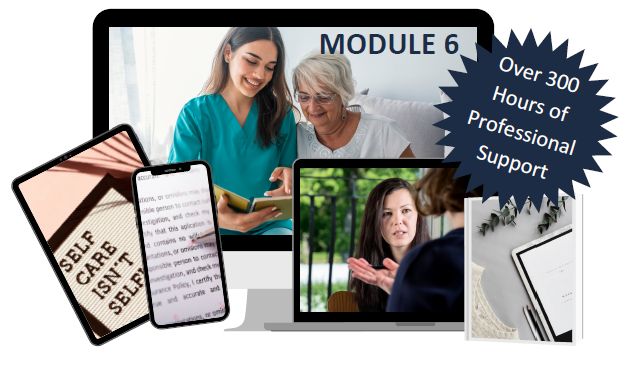 I took the long way to figuring out how to balance caregiving with everything else...
And now I've taken everything I learned, thrown out everything that didn't work, and put the rest into a single, comprehensive program.
The result is the My Pivotal Point Membership Program.
An intensive network of loving support, valuable resources, to-the-point guides, practical tools, and professional experts designed to help you achieve harmony and balance quickly.
Here's how it al breaks down...
Care Buddy Extra Support:
Caregiving can be a lonely journey. Having someone walk the path alongside you who understands can make the burden feel a little lighter. Based on a profile you submit, we will match you to someone with similar caregiving responsibilities and interests so that you have your own Support Buddy.
Coping with Grief Program:
This virtual grief support group is offered twice a year in the spring and the fall for 6 weeks. We will hold live, one-hour conversations on Zoom each week.
Coping with Grief is designed to help individuals who have experienced the death of someone significant to them. Participants will:
Receive support from others who have experienced a similar loss
Learn about the grief journey
Explore ways to remember and memorialize your loved one
Handle conflicting emotions that may range from anger, sadness, guilt, relief, and hopelessness
Map resources, people, and processes for your journey
Discover healthy ways to express grief
One-on-One Grief Support: 
As a Certified Grief Facilitator, I will walk you through the difficult and emotional process of grief. Whether you have lost a loved one recently or decades ago, or are anticipating the death of someone you care for, I offer 45-minute individual sessions for anyone who would like help processing and moving through grief.
Virtual Retreat: 
Every year, we offer a 2-day virtual retreat focused on four domains of caregiver wellness: physical, financial, emotional, and spiritual. The retreat will feature guest speakers, workshops and Q&A with experts.
Life
Legacy Videos 20% Discount

Coping With Grief 20% Discount
Love
Grief Recovery 15% Discount

Annual Retreat 15% Discount

Legacy Videos 15% Discount

Coping With Grief 15% Discount
Legacy
Legacy Videos 20% Discount

Coping With Grief 20% Discount
STILL HAVE QUESTIONS? READ OUR FAQs .